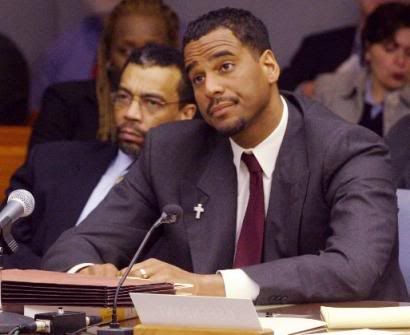 Ex-NBA star Jayson Williams was Tasered by police Monday morning in his Manhattan hotel room after the troubled former hoopster became suicidal and violent, police sources said.
Williams, a charismatic New Jersey Nets center who stood trial for shooting his chauffeur, was taken to
St. Vincent's Hospital
for a psychiatric evaluation, sources said.
Police were called to the Hilton Embassy Suites in Battery Park City
at 4 a.m. after hotel officials described a disturbance in Williams' room, the sources said.
An aggressive Williams, 41, trashed his room, forcing Emergency Service Unit officers to subdue the former All-Star with a Taser gun, sources said.
Williams "appeared suicidal," a police source said. It was not immediately known if he injured himself or if he was armed.
In 2002, Williams was charged with gunning down 55-year-old limo driver Costas "Gus" Christofi at the former player's sprawling "Who Knew?" estate in Alexandria Township, N.J.
Williams, who was hosting a party for a charity basketball game that included several
Harlem Globetrotters, had hired to Christofi to drive for the event.
Prosecutors charged that Williams was goofing off with a shotgun while giving a tour of this palatial home and the weapon went off, killing Christofi.
Williams was acquitted of the most serious charges but the jury dead-locked on the count of reckless manslaughter.
In 2006 a New Jersey appeals court ruled Williams could retried on that charge. The hoop star also paid $2.75 million to Christofi's family to settle a wrongful death lawsuit.
Earlier this year, Williams' estranged wife claimed in divorce papers that he once threatened to kill her and their two daughters.
According to court records,
Tanya Young Williams
claimed that her husband punched out a car window while the couple's daughters sat inside and hurt himself while coming home drunk.
Williams, who became a city high school basketball legend at
Christ the King High School in Queens , went on to star at St. John's University.
He was drafted in the first round of the 1990 NBA draft and debuted with the
Philadelphia 76ers .He blossomed into a star with the New Jersey Nets after a 1992 trade and remains one of the franchise's all-time leading rebounders.
Due to a series of injuries, his
NBA career was cut short after nine seasons. He later worked on
NBC 's basketball broadcasts but was fired after he was charged with shooting Chistofi.The hotel where Williams was subdued is the same place where former NBA legend
Bernard King
was arrested for beating his wife in October 2004. He later agreed to counseling