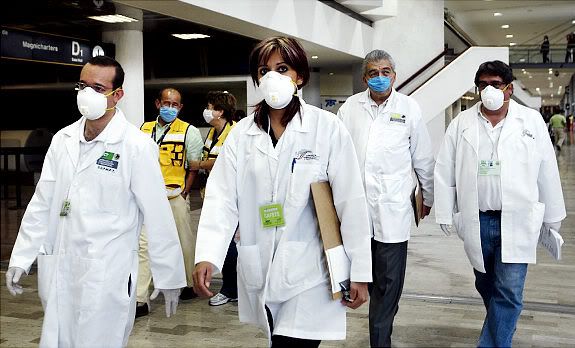 WASHINGTON - President Obama declared swine flu is "not a cause for alarm" Monday, and held up the disease scare as a reason to get better at science.
"If there was ever a day that reminded us of our shared stake in science and research, it's today," Obama told the National Academy of Sciences.
"We are closely monitoring the emerging cases of swine flu in the United States," Obama said, a day after the White House held a rare Sunday press conference to detail the massive federal response - and calm public fears.
"This is obviously a cause for concern and requires a heightened state of alert, but it's not a cause for alarm," Obama said, emphasizing that the public health emergency declared Sunday was "a precautionary tool" that lets the feds move money and resources.
Obama's pep talk came as the European Union health commissioner urged Europeans to postpone nonessential travel to the United States and Mexico due to the deadly flu.
"[Europeans] should avoid traveling to Mexico or the United States of America unless it is very urgent for them," EU Health Commissioner Andorra Vassiliou told reporters as she met with the EU foreign ministers on the subject.
Obama cautioned against overreacting.
"I'm getting regular updates on the situation from the responsible agencies. And the Department of Health and Human Services, as well as the Centers for Disease Control, will be offering regular updates to the American people," he said.
He linked the efforts to respond comprehensively to the outbreak to the main point of his morning speech - a call to for America to bone up on science.
"At such a difficult [economic] moment, there are those who say we cannot afford to invest in science, that support for research is somehow a luxury at moments defined by necessities," he said. "I fundamentally disagree."
He said the multi-agency scientific response to the swine flu threat was evidence of the need.
"Our capacity to deal with a public health challenge of this sort rests heavily on the work of our scientific and medical community," he said. "This is one more example of why we cannot allow our nation to fall behind. Unfortunately, that is exactly what has happened."
Obama added that he was setting a goal of having the country spend 3% of its gross domestic product on research and development.
Such a course, he argued, will keep the United States in the technological forefront.
To push for that goal, he announced a new President's Council of Advisors on Science and Technology, which includes Google CEO Eric Schmidt and Memorial Sloan-Kettering Cancer Center head Harold Varmus, who is a co-chair of the panel.
HERE ARE SOME THINGS YOU SHOULD KNOW!
Q: What is swine flu, and how do humans catch it?
A: Swine flu is a highly contagious respiratory disease normally found in pigs. People usually become infected through contact with pigs, but this new virus has mutated enough to allow human-to-human transmission.
Q: What are the symptoms?
A: Fever, lethargy, lack of appetite and coughing. Some patients also report experiencing a runny nose, sore throat, nausea, vomiting and diarrhea.
Q: I'm feeling fine. should I be doing anything?
A: Wash your hands more than usual to protect against catching the flu virus. Make a contingency plan in case the outbreak worsens and your child's school closes.
Q: If i feel flu-ish, what should I do?
A: Check with your doctor, who will likely prescribe an anti-viral medicine like Tamiflu or Relenza. (You probably have a regular flu, or just a cold.) Don't go to work or school, just in case. Stay off public transportation and don't sneeze on people.
Q: Is there a vaccine?
A: No. The Centers for Disease Control and Prevention is working to develop one, in case it is needed.
Q: Should I stop eating bacon?
A: No. You cannot get the flu from eating pork products of any kind.
Q: How worried should i be?
A: So far, deaths from swine flu have been reported only in Mexico - and the cases in New York have been very mild. Health officials worry the outbreak will get worse, but the summer is almost here, which will retard flu transmission.