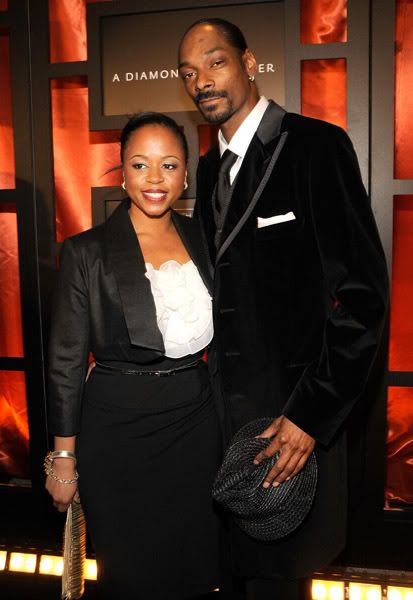 In the wake of a confusing report on TMZ.com speculating that Snoop Dogg's wife, Shante Broadus, might be dead — which spread rapidly across the Internet on Friday morning (April 10) — the rapper's manager dismissed the report to MTV News as "ridiculous."
TMZ reported that an anonymous tipster called into the California Highway Patrol, which later posted the tip on the CHP Web site, saying that Snoop "has the dead body of his wife in his basement." The incident appeared as a "possible fatality" on the Web site.
The tipster called in at 3:19 p.m. Thursday afternoon to report the "fatality," while Snoop was hosting a show on the Internet. According to TMZ, the Highway Patrol did not forward the report to the L.A. County Sheriff's Department.
Snoop Dogg (real name: Cordozar Calvin Broadus Jr.), 37, married Shante Taylor Broadus, in June 1997; the two had been high school sweethearts. Seven years into the marriage, Snoop filed for divorce, citing irreconcilable differences, but the couple reconciled and renewed their wedding vows in January 2008.
"I thought I was the man, and I was willing to give up what I had at home for that," Snoop told The Associated Press in 2007, "until I realized that what I had at home was irreplaceable. So I gave that up to go back home."
The pair have three children together, Corde, Cordell and Cori, all of whom star along with the couple on the reality show, "Father Hood."
"Sometimes you lose focus because this Hollywood entertainment world can throw you off track," he told the AP. "That's why you see me doing things like this television show and my own football league, and the positive things I do, because I'm back aware again."