We've learned Mel Gibson's wife Robyn has just filed legal papers to divorce Mel Gibson, her husband of 28 years, citing "irreconcilable differences." Pretty ironic -- Robyn signed the papers the day before Good Friday.
Sources tell us there is no prenuptial agreement -- they were married in 1980, before Mel Gibson amassed a fortune estimated at $900 million back in 2006. Under the laws of California, community property -- which includes earnings -- is divided 50/50.
The Gibson's have 7 children, but only one -- Tom, who turns 10 tomorrow -- is a minor. In Robyn's legal papers, filed this morning in L.A. County Superior Court, she seeks joint physical and legal custody of Tom.
Robyn is also asking for spousal support and attorneys fees.
Robyn lists the date of separation as "to be determined." This is important, because earnings generally cease to be community property when the couple separates. There could be a skirmish over this. We're told the couple grew increasingly apart over the last few years, especially since Mel's drunk driving arrest in 2006.
There have been reports that Mel has been involved with another woman, which the actor denies, but we're told the reasons for the divorce go beyond any third party.
If there is a fight, Robyn is in good hands -- she's repped by disso-queen Laura Wasser, who has handled divorces for the likes of Angelina Jolie, Britney Spears and Stevie Wonder.
DAMN! MEL!
COULD THIS BE WHY?
Talk your way out of this one!
Mel Gibson frolics in the surf with mystery bikini-clad woman
By Richard Simpson
Last updated at 1:32 AM on 16th March 2009
He has explained his way out out of tight spots before, and it looks like he'll have to again.
Mel Gibson has been pictured embracing a stunning bikini-clad woman in the surf near his estate home in Costa Rica.
And while her identity remains a mystery, it was definitely not 52-year-old Robyn Moore, his wife of 28 years and mother of his seven children.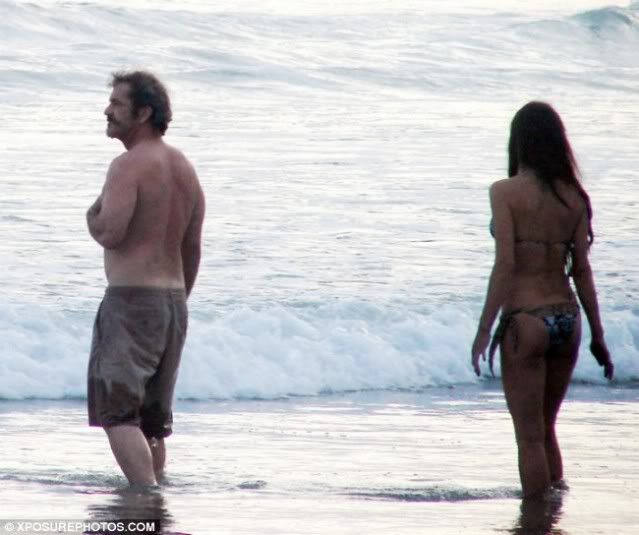 What would the wife say? Mel Gibson paddles in the surf with a mystery woman in a bikini near his estate home in Costa Rica
Our source on the beach said: 'It was near sunset. The two of them were playing in the surf, ducking into waves.
'Then Mel sort of took hold of her and she came willingly into his arms. They put their arms around each other and kissed pretty passionately for about four or five seconds. The two of them then wandered down the beach and popped in and out of the surf.'
Gibson, 53, owns a 300-acre retreat on the shores of Costa Rica's Pacific shoreline. It was there that he apparently entertained Britney Spears to help her recuperate after her recent breakdown.
It is not clear whether his wife, who is seldom seen in public, is with him in Costa Rica or at one of his other homes in California, Connecticut, Fiji and his native Australia.
Last September there were reports that Gibson was becoming close to a glamorous Russian musician known only as Oksana while filming his new movie Edge of Darkness in Boston.
In 2006, with his tongue loosened by tequila, he ranted against Jewish people to a female traffic police officer who had pulled him over for drink driving.
Two years earlier he was forced to issue denials of anti-Semitism when his film, The Passion Of The Christ, was widely condemned for portraying Jews as the villains.
Gibson's publicist is not available for comment.