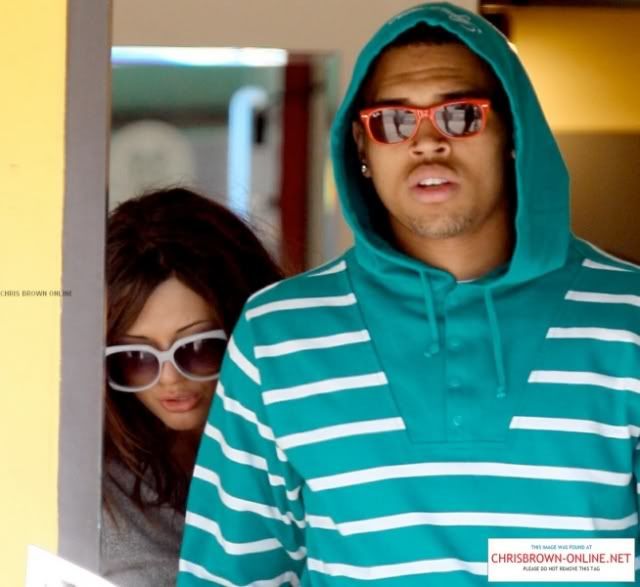 Chris Brown is moving on.
The R&B singer has started dating again since his troubled relationship with pop chanteuse Rihanna ended last month, and it appears he has gotten back together with another ex-girlfriend.
Brown's new/old lady is University of Mary Washington student Erica Jackson. "[Chris and Erica] met in Virginia, where he's from," a source close to the singer says. "They dated back in the day and reconnected a few weeks ago when Chris was in town. They've been spending a lot of time together, but things only really heated up over the last two weeks."
And while Jackson is "no Rihanna," the general consensus among his friends and family is that the new girl is going to be good for him in the long run. "[Erica] has a good head on her shoulders; she's solid," says our insider. Chris and his new gal pal were spotted leaving a Sunset Blvd. tattoo parlor on Saturday afternoon.
"She's more of a plain Jane — cute though," says our source. At the very least, she's helping to ease Chris' pain over Rihanna. He was mad in love with that girl."
According to pals, the "mad" one in this love trifecta will be Rihanna herself. "She is going to be pissed!" says a pal of the pop starlet. "Ri is going to be so hurt that Chris has moved on so quickly and is parading this new girl around town."
Regardless of her emotional state concerning her ex, Rihanna is currently preparing to help the Los Angeles district attorneys in their case against Brown. "[Rihanna] will do everything that the law requires her to do. . . . nothing has changed," the songbird's lawyer, Donald Etra, said recently.
A rep for Brown tells us, "He did go to a tattoo parlor with someone from the studio named Dean. There was a woman there who was a friend of Dean. There is no truth to this at all. Chris does not know the woman nor does he know the name of the woman."
The "No Air" singer pleaded not guilty to charges of felony assault and making criminal threats on April 6. To pay his legal fees, Brown has reportedly sold one of his houses in his hometown of Tappahannock, Va.
LOL!
DID YOU KNOW HE WAS A CHUBBY CHASER TOO!