GQ magazine has declared Rozay "Bawse Of The Year" in its Men of the Year issue.
The "MC Hammer" rapper was granted the accolade thanks to his fifth album, God Forgives, I Don't, and the continued success of his Maybach Music Group label, which most recently saw the release of Meek Mill's debut, Dreams and Nightmares. GQ also finagled some advice out of Rawse, which somehow led to his opinons regarding the proper consumption of "greenery."
"One, for Christmas go get yourself an MMG tattoo," suggested Ross. "Two, let's all stop smoking blunts; let's smoke out of papers."
F**k is this ni**a talkin' about! Only hippies, weirdos & old folks smoke papers
N**as in the hood smoke blunts my ni**a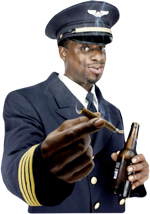 And what the f**k does GQ know about Bawse

SOURCE