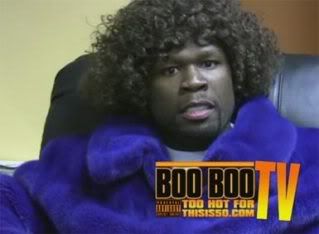 Las Vegas newspaper is reporting:
50 is in Vegas to be in Eminem's 1st single video for his album coming out May 19. He was spotted getting his nails done, wearing a wig, and going to Vegas shows with Ciara (also trying to disguise herself). They spent the weekend watching Cirque du Soleil shows.
Fitty and Ciara were at O inside the Bellagio last night [Friday night] with 50 in disguise, wearing an afro wig, baseball cap and sunglasses while Ciara was sporting a parka. They got to their seats as the show started, escorted by a body guard, and left right before the performance ended.
Could Rick Ross be right about dude????