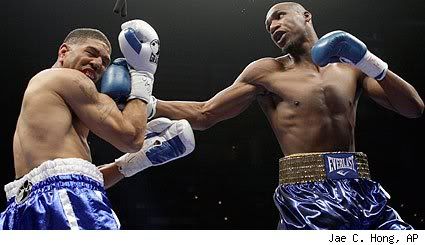 LAS VEGAS (AP) -- If Paul Williams thought the world's top boxers were scared of him before, just wait until they see the holes he punched in Winky Wright's once-impenetrable defense.
Williams worked Wright like a heavy bag with hundreds of relentless blows, earning an emphatic victory by unanimous decision Saturday night in a meeting of two much-avoided middleweights.
In his first main-event bout in boxing's capital city, Williams (37-1, 27 KOs) pounded at Wright's famed defensive posture from the opening bell. The Augusta, Ga., native was simply masterful, systematically breaking down the former champion in Wright's return from a 21-month ring absence.
With so many punches to block, Wright (51-5-1) simply didn't have time to land enough scoring blows against his much taller, longer opponent. Williams barely appeared tired by the closing bell, chasing Wright around the ring up to the final seconds while anticipating what his biggest win yet will do for his blossoming career.
"I felt like I did in the first round in the 12th," Williams said. "That was because of my hard training, and running seven miles a day. It helped my breathing."
His dominant performance should leave any future opponents a bit short of breath. Although Williams considers himself a 147-pound welterweight, he had no problem moving up to 160 - and he'll fight anywhere in between.
The Mandalay Bay Events Center was half-full, but those fans now understand why Williams might be the sport's most intriguing talent. Williams threw 104 punches in the first round and 106 in the 12th, rarely taking a break in between.