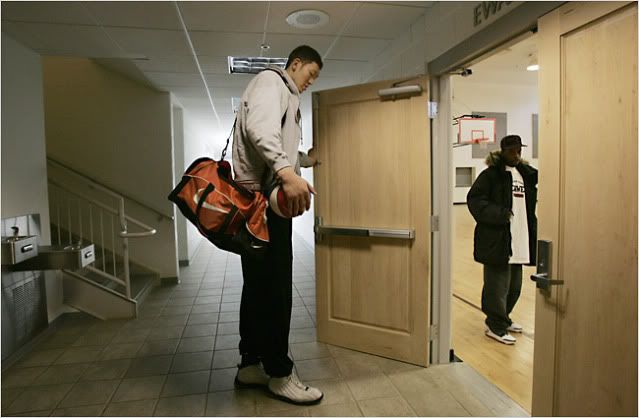 At 7-foot-9, it's hard to overlook Chinese center Sun Mingming. The comparisons with NBA star Yao Ming are inevitable.
Able to dunk while barely leaving the ground, Sun just completed the most successful season of his pro career, helping the Hamamatsu Phoenix to a first-place finish in the Eastern Conference of Japan's professional basketball league.
"I just want to keep playing basketball," the 25-year-old Sun said after the final game of the season. "Whether it's here in Japan or in the United States, I hope to keep playing for at least 10 more years."
His size has led to the comparisons with his compatriot Yao of the Houston Rockets, but Sun's lack of speed is considered by some experts as a barrier to a career in the NBA.
If he ever makes it to the NBA, Sun would be the tallest player in the league's history, overtaking Manute Bol and Gheorghe Muresan, who both stood 7-foot-7. Yao, at 7-foot-6, is the tallest active NBA player.
"He's a pretty good passer and a good shooter," said former Cleveland Cavaliers scout Robert Pierce, who now coaches in Japan. "He's so big that he could have a chance in the NBA but I think his size would be lessened because of the athletic ability and speed of NBA players."
Sun was on a one-year contract with Hamamatsu and said he will weigh his options as he bids to take his game to the next level.
The Bayan, China, native went to the U.S. in 2005 to train for a possible career in the NBA and was declared eligible for the draft that year. But after a brief tryout with the Los Angeles Lakers, he was not selected.
The feedback then was that Sun lacked stamina and aggressiveness.
The news got worse for him that summer, although it perhaps explained a couple of his on-court deficiencies. Sun learned that he had a benign brain tumor pressing against his pituitary gland. The tumor was preventing the proper production of testosterone, decreasing his stamina and endurance.
The tumor was also causing an overproduction of growth hormone resulting in a condition known as 'acromegaly' that causes various parts of the body to sustain abnormal and unstoppable growth.
The tumor was successfully removed in September 2005. Despite being in his 20s, he'd grown four inches taller in the previous few years.
Since the surgery, Sun has been a well traveled journeyman. He played with several minor league basketball teams including the Dodge City Legends of the United States Basketball League, the Maryland Nighthawks of the American Basketball Association and the Grand Rapids Flight of the International Basketball League.
In 2007, Sun played for Mexican professional team Fuerza Regia before coming to Japan.
Sun played in 14 games for Grand Rapids and 25 games for Fuerza Regia so his 49 games this season is a big improvement.
Endurance is obviously becoming less of an issue.
Sun played in the all-star game in his first season in Japan and had 67 dunks in 49 games. He averaged 7.7 points and had 280 rebounds. In April, he had a season-high 19 points and 13 rebounds in 33 minutes against the Niigata Albirex BB.
Despite his improved play, Sun admits there are points to his game he needs to work on.
"We're a pretty fast team and sometimes I have trouble getting back in the play," said Sun, who started playing basketball when he was 15. "But I've been working on my conditioning and feel pretty good now."
Playing against Sun can be a daunting task to many of his opponents.
"It's surreal," says 6-foot-8 forward Lynn Washington, a two-time MVP in Japan. "You can't really do much because he's so big. He just holds the ball up in the air and it looks like a tennis ball."
Washington's Osaka Evessa teammate Ryan Blackwell said playing against Sun generates some unique challenges.
"He changes the whole dynamic of your thinking when you're in the game," Blackwell said. "He doesn't move as well laterally so it's a lot easier to move around him than over him. There are times when he is really aggressive on the court but he needs to be that way more consistently."
Sun's resume even includes an appearance in the 2007 comedy Rush Hour 3 with Chris Tucker and Jackie Chan. After appearing in the fight scene, he said he's more interested in basketball than Hollywood.
"I think I'll stick to basketball for now," Sun said. "I don't want people to think I'm not totally focused on playing."
For now, he plans to enjoy some home comforts for a while, returning to China to play in a tournament and catch up with family.
"I haven't been home in almost two years," Sun said. "I just want to go home and see my family."