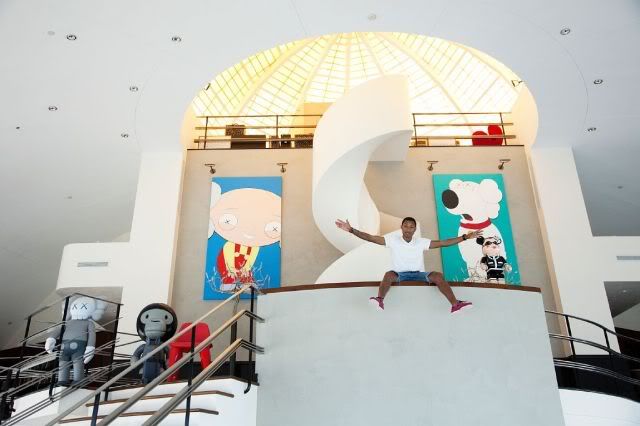 LOL! PHARRELL GOT THE STEWIE! IT PAYS TO BE A N.E.R.D. Considering N.E.R.D. frontman Pharrell Williams is known for his colorful Ice Cream brand outfits, it makes sense that his Miami penthouse also has a playful decor. He has a painting of "Family Guy" character Stewie, as well as oversized cartoon figures and a Perspective chair (which he designed) with human-like legs, toes, and all. But these are just the accessories. The massive $14 million abode, photographed by Todd Selby, has an arrowhead-shaped pool, spiral staircase, and view of the coastal shore. It is definitely fit for the head of an entity called the Billionaire Boys Club.
KANYE GOT THE JETSONS! KANYE'S BEAUTIFUL FANTASY COMES TRUE Kanye West also displayed cartoon elements in the decorations of a Hollywood apartment he put up for sale last spring for $4 million, New York Magazine reported. The room photographed is lined with Jetsons art, and, like the futuristic cartoon, is heavy on the remote-controlled features. But West did not let the designers finish the place without adorning the dining room ceiling with a depiction of himself as an angel.
DIDDY'S SH!T IS UPSCALE! WHEN DIDDY'S NOT ON THE LAST TRAIN TO PARIS Sean "Diddy" Combs opted for a sleeker and more serious feel for a lounging area of his newest New York City property. Designed by Benjamin Noriega-Ortiz, the clean, modern look relied on neutral colors -- silver, smoke, cream, and glass -- mirrored tables and vases.
WAYNE GOT THE TONY MONTANA! LIL WAYNE'S YOUNG MONEY GOES A LONG WAY Surprisingly, animated hip-hop superstar Lil Wayne has the most conservative design for his home. Like Diddy, Wayne used a light palette in one of the rooms. One of the most striking features of the $14 million home located in La Gorce Island, Miami Beach is a wall lined with floor-to-ceiling windows. Click here to see more photos in Business Insider. SOURCE