Let's be honest, aside from being a poor man's version of Janet's 'Together Again', Rihanna's 'Where Have You Been' really is all that and then some.
The latest clip in aid of her new album 'Talk That Talk', it premiered on Tuesday and follows the release of the record breaking number 'We Found Love'.
However, today gave indication that 'Where' is to best 'Love's astounding feats.
Why?
It now holds the record for scoring the most views on VEVO in the shortest amount of time.
Originally held by Nicki Minaj's 'Stupid Hoe', the record is now Rihanna's after the video surpassed views of 5 million less than 24 hours after its debut.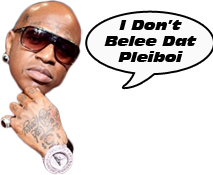 Confirmed by VEVO by way of Twitter, the model's fans celebrated the news by making #WHYBBrokeTheRecord the #1 trending topic on the social networking site.
This led to a series of 'Twitter battles' between her fan base 'The Navy' Minaj's 'Barbz' and Lady GaGa's 'Monsters'- some of whom claim Fenty's label purchased the views to boost momentum for the single.